The 2016 Subaru Impreza combines powerful performance with passenger protection for a ride that's innovative, convenient, and secure. Advanced safety features augment the 2016 Impreza's sturdy and self-assured design, especially when it's equipped with Subaru's available EyeSight® Driver Assist package.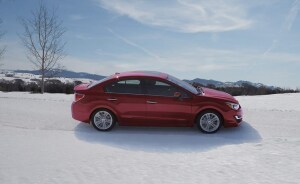 Along with these features, the Impreza delivers an advanced protection system and a smart braking system and has five-star overall crash test rating from the National Highway Transportation Safety Administration. That way, you can navigate busy traffic patterns through Rahway, Linden, and Woodbridge Township with some peace of mind.
Here's everything you need to know about the 2016 Subaru Impreza's safety features before getting behind the wheel.
EyeSight Driver Assist Advantage
Between its sturdy frame and excellent crash test scores, the Impreza is designed to keep each passenger safe while cruising on the highway, especially with the EyeSight® Driver Assist package. This system monitors traffic patterns, alerts you when you move outside your lane, and even optimizes cruise control so you remain a safe distance from the vehicle in front of you.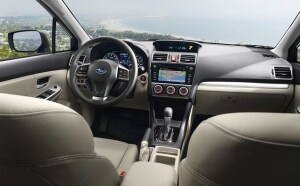 The features that come standard with EyeSight® Driver Assist-Adaptive Cruise Control, Pre-Collision Braking, Pre-Collision Throttle, Lane Departure Warning, and Pre-Collision Warning-minimize a collision's impact and even adjust your driving to prevent them from happening. That way, you can have some peace of mind while going about your daily routine.
EyeSight® Driver Assist is available on the 2.0i Limited, 2.0i Sport Premium, and 2.0i Sport Limited trims and provides an advanced level of protection when you need it most. In fact, 2016 Impreza vehicles manufactured with Subaru's EyeSight® Driver Assist Package earned a Top Safety Pick+ score from the Insurance Institute for Highway Safety, which means it received a good rating in five crashworthiness tests and a superior rating in front crash prevention.
Advanced Protection Comes Standard
Each Subaru Impreza comes with seven airbags, including front, front seat-side pelvis/torso, driver knee, and side curtain airbags. If the Impreza gets into an accident, several sensors help deploy them in an effective manner, protecting passengers from impact and debris.
Along with its airbag system, the Subaru Impreza comes with a ring-shaped reinforcement frame made from high-strength tensile steel. This frame is designed to channel an accident's energy away from passengers and keeps them secure during emergency situations. 
Designed With Extra Backup
Every 2016 Subaru Impreza comes with a standard rear vision camera, which displays the area behind it on a dashboard screen. Guidelines help you see the Impreza's path, so you can judge its distance from other objects more accurately. 
Learn More About the Subaru Impreza at Richard Lucas Subaru
The 2016 Subaru Impreza's groundbreaking safety features and robust design make it a solid choice for compact sedan and hatchback shoppers. Along with these features, the Impreza offers a roomy interior, an adept performance, and advanced technology features, which you can read about in our full review.
The Subaru Impreza delivers a versatile and reliable ride through Rahway, Linden, and Woodbridge Township. If you're considering a compact sedan, test drive a 2016 Impreza at Richard Lucas Subaru today!