The Subaru Forester comes with a sturdy design, standard all-wheel drive and incredible safety features to help you drive confidently. Wherever you're headed in Rahway, Linden or Woodbridge Township, you can have peace of mind while behind the wheel of a Forester.
If you're considering a 2017 Subaru Forester, check out our review of its safety features below. We go over everything you need to know about its standard and available features, what they do and how they help you avoid critical situations on the road.
Advanced Protection in a Forester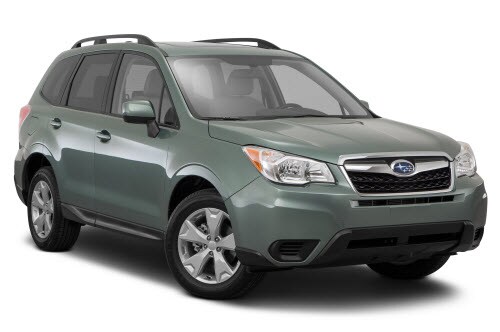 Fortified with a total of seven airbags, the 2017 Subaru Forester keeps your most precious cargo protected when critical situations arise. It's ring-shaped reinforced steel frame is designed to shield passengers from impact, directing it away from the cabin rather than through it.
Keeping an Eye on Blind Spots
We could all use an extra set of eyes while switching lanes. Luckily, the 2017 Subaru Forester is available with blind spot monitoring and rear cross traffic alert. Blind spot monitoring warns you if a vehicle is in your blind spot, helping you avoid collisions while backing up. Rear cross traffic alert serves a similar function and gives you a heads up when traffic is approaching from the side as you're backing up.
2017 Forester Reverse Automatic Braking
Many crossovers are available with forward collision braking, but what if you're approaching an obstacle while backing up? With the Subaru Forester's available reverse automatic braking system, you can avoid collisions while driving in reverse. This feature applies the brakes if you're getting too close to another vehicle while backing up. This is just one example of how the 2017 Forester is setting a new standard for crossover safety.
Subaru Forester Safety: Eyesight® Driver Assist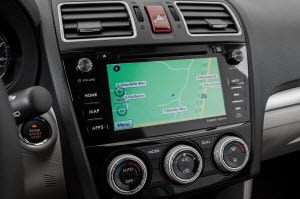 The Forester's available Eyesight® Driver Assist package is always looking out for changes in traffic, driving patterns and road conditions. Using two cameras mounted above its rearview monitor, Eyesight® Driver Assist sends visual or audible alerts if it senses danger. It also optimizes cruise control and alerts you if you're leaving your lane; it even applies the brake if you're getting too close to the car in front of you.
Subaru STARLINKTM Safety Plus & Security Plus Package
The 2017 Subaru Forester's available STARLINKTM Safety Plus & Security Plus package is available with automatic collision notification, roadside assistance and remote services that let you lock and unlock it from your mobile device.
To find out more about the Forester's available Subaru STARLINKTM Safety Plus & Security Plus package, check out our technology review.
Find Out More About the 2017 Subaru Forester
If safety is a priority when shopping for your next car, the 2017 Subaru Forester checks off all the right boxes. The Forester is fortified with advanced safety features that keep danger at arm's length wherever you're going in Linden, Rahway or Woodbridge Township. Richard Lucas Subaru has a full inventory at our showroom for you to consider.
Have a question? Feel free to reach out to us online or give us a call at (888) 430-9350.