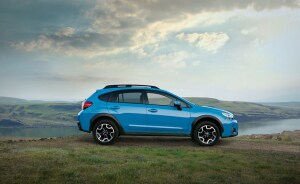 The 2016 Subaru Crosstrek's off-road ready, family-friendly design offers an impressive lineup of safety features to keep each passenger protected. Between its sturdy engineering, advanced road monitoring technologies, and sure-footed performance, the Crosstrek keeps your safety in mind.
Wherever you're headed in Rahway, Linden, or Woodbridge Township, the Subaru Crosstrek's safety features stay a step ahead of accidents and collisions, especially with features like EyeSight® Driver Assist technology. Our review below goes over the innovative safety features on the 2016 Crosstrek if you're interested in learning more.
EyeSight® Driver Assist
When equipped with the EyeSight® Driver Assist Package, the Insurance Institute for Highway Safety recognizes the Subaru Crosstrek as a TOP SAFETY PICK+ - the highest rating available for the 2016 model year. This system is available on the Crosstrek's 2.0i Premium and 2.0i Limited trims and monitors traffic patterns, your acceleration, and road conditions to keep dangerous situations at bay.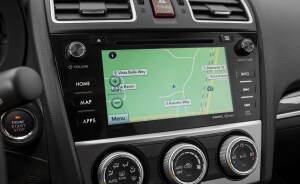 Subaru's EyeSight® Driver Assist system comes with Pre-Collision Throttle Management, Lane Departure Warning, Pre-Collision Warning, Pre-Collision Braking, and Adaptive Cruise Control to maintain a controlled, self-assured performance. Together, these features give you an update if you're getting too close to another car or swaying outside your lane and optimizes cruise control. It can even hit the brakes before an impending collision.
Fortified Design
The 2016 Subaru Crosstrek comes with seven standard airbags, including side curtain airbags, driver's knee airbags, front seat side pelvis/torso airbags, and front airbags. This advanced system includes several sensors located throughout the Crosstrek that determine how to deploy the airbags most effectively if a collision occurs.
Along with its state-of-the-art airbags, the Crosstrek's ring-shaped reinforcement frame shields passengers from an accident's impact. This frame is manufactured with high-tensile strength steel, which directs energy around the passenger cabin rather than through it.
The Crosstrek Comes with Backup
Every Subaru Crosstrek comes with a standard rear-vision camera, which gives you clear visibility while backing out. When you switch gears into reverse, a screen in the 2016 Crosstrek's front console displays the area behind it.
The rear-vision camera even comes with guidelines so you can see your path as you back out. This is a great feature when you're pulling out of a parking spot or driveway and helps you judge the distance between the Crosstrek and other objects more accurately.
More About the Subaru Crosstrek at Richard Lucas Subaru
The 2016 Subaru Crosstrek features a sturdy frame, advanced road monitoring technologies, and innovative features to stop accidents in their tracks. These options are useful while you're in parking lots in Linden, on the highway in Rahway, or driving through neighborhoods in Woodbridge Township, especially with their easy-to-use controls.
In addition to its top-of-the-line safety features, the Subaru Crosstrek offers a versatile design that's as comfortable on terrain as it is on the freeway. It also comes with an impressive lineup of technology features to keep each passenger connected throughout your next excursion. To read more about these options, check out our review of the Subaru Crosstrek, courtesy of Richard Lucas Subaru.