Wondering where you can find the best sushi in Woodbridge, NJ? We have the scoop.
We surveyed our team of sushi lovers here at Richard Lucas Subaru and complied a list of the best Sushi restaurants not only in Woodbridge but in all of Central New Jersey!
So the next time you're craving fresh sashimi or artfully crafted tempura, head over to one of these sushi spots for an authentic, memorable dining experience. We promise they will not disappoint!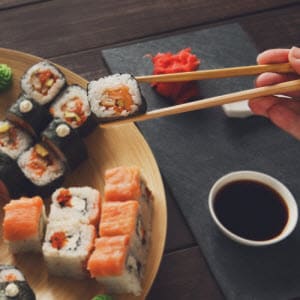 Bistro 1051 boasts eclectic cuisine and an inventive menu. Combining fresh seafood, a sushi bar and Italian dishes, Bistro 1051 offers excellence in every bite.
Patrons dine on fresh cuisine in a bright, cheerful dining room. Its casual atmosphere is welcoming and kid-friendly, which makes Bistro 1051 a community staple in Woodbridge Township. Whether you indulge in savory sashimi or a plate of penne, Bistro 1051's unique menu offers something for everyone.
Try their Spicy Salmon or Christmas Roll for a meal you'll never forget. Conveniently located at 1051 Raritan Road, Clark, New Jersey, Bistro 1051 is an excellent choice for local foodies.
At IchiUmi, visitors feast on incredible sushi in a modern, well decorated dining room. With its attentive service and expansive sushi bar, IchiUmi offers a fresh, fun dining experience.
IchiUmi's seafood is fresh, artfully prepared and consistently delicious. They offer a wide variety of sushi, sashimi, meats and salads to choose from, which makes it a great choice for happy hour or a night out with friends. Its staff and servers are helpful, so you can expect an excellent meal whenever you visit IchiUmi's Edison location.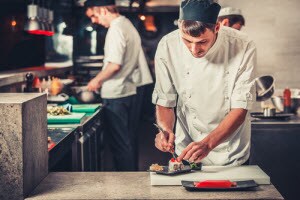 Whether you opt for Unagi, Tuna Sesame Rolls or Yellow Jack Sashimi, IchiUmi's incredible selection never disappoints. They're conveniently located in the Menlo Park Mall — 352 Menlo Park Drive, Edison, New Jersey, 08837 — so be sure to visit the next time you're craving sushi.
Makoto Asian Cuisine & Sushi
Makato Asian Cuisine & Sushi offers an incredible variety of Chinese, Japanese and Thai Food. Whether you opt for a peanut avocado roll or Thai red curry chicken, Makoto Asian Cuisine's delicious menu leaves every customer satisfied.
Makato's creative, artful display and fresh ingredients keep patrons coming back for more. Its simple décor and relaxing atmosphere make patrons feel at ease and an attentive staff provides a pleasant, comfortable dining experience.
Makoto is conveniently located at 1124 St. Georges Avenue, Avenel, New Jersey, 07001. We recommend Makoto's Chirashi and Unagi Don entrees. Each leave you satisfied, especially with their generous portions and fresh seafood.
With Sushi Palace's all-you-can-eat sushi buffet, customers get both quality and quantity. Its lively atmosphere complements its creative fare, which comes with the freshest, finest ingredients available.
Sushi Palace is great for old and new sushi lovers alike, especially with its wide selection of sashimi, sushi, salads and more. Whether you snack on edamame or indulge in a Yellowtail Maki Roll, Sushi Palace sets the benchmark for quality and authenticity.
Sushi Palace is conveniently located at 1089 Inman Avenue, Edison, New Jersey, 08820. Their attentive service, impressive menu and cheerful atmosphere are sure to impress.